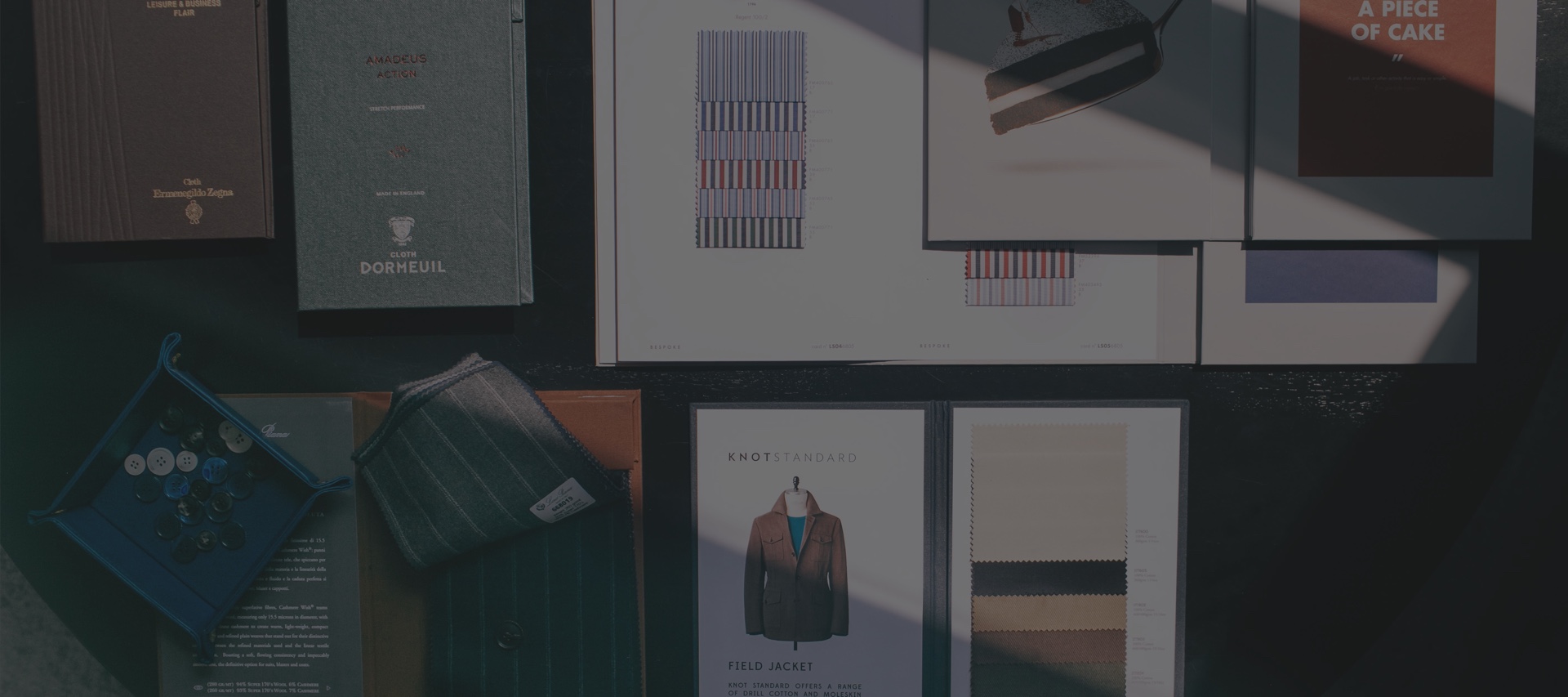 OVER 7,000 EXQUISITE FABRICS
Imported from the finest mills, Knot Standard has an unparalleled library of suiting and shirting cloth.
CUSTOMIZATION
Choose online from thousands of our most popular fabrics, or visit our showrooms for the full collection.

Our Signature suiting, shirting and overcoat fabric is a collection of 800 of our favorite fabrics from small mills throughout the world, with a wide selection that is great for the customer who is new to custom.

Loro Piana is one of the highest grade fabrics carried by Knot Standard, and is coveted by our clients for its extremely 􀇇ne, soft wools, from their classic wool 130s and 140s to their ultra-luxurious Super 210 wool, silk and baby cashmere.

Located in the Czech Republic, Mileta is one of the largest integrated textile manufacturers in Europe, specializing in cotton and linen shirting. Mileta supply the widest variety of colors, patterns and fabrics of shirting than any other producer in the industry.

Since 1836 the Savile Row mill Holland & Sherry has suited kings, queens, emperors and presidents, and continues today as the de facto standard of luxurious English fabric.

A name that needs no introduction, Zegna focuses on predominantly high quality wools, silks and noble fabrics. Led by their Trofeo bunch - a Superfine Australian Wool blended with silk at 190g/m, yet still able to provide exquisite drape and a fine hand.

The oldest mill in the world was established in 1663 in the Biella region of Northern Italy. They are the world's largest producer of fine suiting fabrics, producing approximately 14 million meters of fabric annually. Vitale Barberis Canonico (or VBC for short) produce for many other fabric mills, including Zegna fabrics; who are their largest client.

Headquartered in Naples, Ariston provides an incredible range of fabrics in bold, creative designs. Ariston are known for their flair and imagination, releasing 6 bunches each season in limited runs. What stands out most for Ariston is there jacketing selection, their cottons - which are the best Knot Standard has to offer, and their vivid spectrum of blues and navies in all fabric compositions.

Sitting at the top of the fabric pyramid, the French company settles only for the world's finest raw materials. Despite being a French company, all fabrics are exclusively milled in Huddersfield, England; where some of the world's purest water can be found - an important factor in the production of fabric. Mastering traditional British methods, they employ exceptional detail such as yarn dying, unconventional fabric blending,and foremost innovation.

Founded in 1865 by Carlo Reda in Biella, Italy. the mill still has its roots there to this day. Similar to VBC, Reda offers a great price point for first time buyers of Italian fabrics. Knot Standard's collection also includes a multi-seasonal jacketing book including hopsack for summer and flannels for winter.

Circa 1750, Thomas Mason was one of the leading entrepreneurs in the English textile industry. To this day the quality of Thomas Mason shirting fabric speaks for itself, with the fabric and color lasting up to 5 years despite weekly washing, this is incredible performance for a product that goes through constant wear and tear through daily use - especially with a yarn counts at no less than 100.

Creating Italian cottons and linens is second nature to Solbiati, with each fabric showing its interest in the movement of fabric and a vast body of research. Solbiati is known for the way its cotten and linen creations present an unconventional elegance.

Another famous Italian mill from the Biella region that began production in 1973. Producing over 1.7 million meters of fabric a year, it has become a voice for modern Italian style in men's suiting. Although relatively young compared to it's regional partners, Drago remains one of the only fully integrated woolen mills.